Yes, it has been another week of excitement at the Hampton United Methodist Church.
Monday started with FLOCK (
F

aithful

L

adies

o

f

C

rocheting and

K

nitting.)  It is always nice to visit with the ladies and to see their latest projects.  Beautiful patterns and colors, I think everyone is impatiently awaiting spring.
On Tuesday the Mission Committee met.  They were presented with a brochure, put together by Mardell Van Kleeck, a very gifted lady, regarding the FLOCK group.  During the discussion a plan was put forth to ask other ministries of the church to put together information about their ministries, with Mardell's willingness to mock up brochures for each group.  She will also work on a master brochure which will give an over veiw of the church and the ministries.  Once this part of the project is completed, the brochures will be grouped together in a coffee mug designed specifically for the church and be pasted out to guests and friends of the church as they visit.  Members and constituents of the church may also take mugs to give to friends in the community as an invitation to join us in ministry.  Once someone receives a mug, they will be known for having been "mugged by the HUMC."  The idea of "mugging" came to me after attending an event at the United Methodist Church of the Resurrection in Kansas City.  They do this all the time.  Sounds like fun doesn't it?
On Wednesday, Mrs. Bossie Cow, returned to HUMC after spending some time in retirement at Mike and Carol Nolte's farm near Hansel.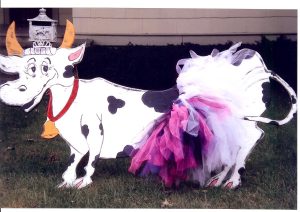 Here she is in a snap I found of her on the computer.  Bossie will help with fund raising efforts by the group traveling to Perryville, Arkansas this summer to work at the Heifer International Farm there.  It looks like we will have around 15 participants on this mission.  Conversation has also brought up thoughts of going west, whether to Western Iowa or Nebraska to assist with flood relief.  That is exciting.
Also this week the April Edition of The Tower went out.  In there you will find many events coming up that will require volunteer help.  The feedback has been very positive.  Here are some of the events, if you are interested in volunteering, please, let the office know
Tuesdays on the Town. HUMC and St Paul will be setting up a booth during the event in June to promote a Community VBS.

Painting: Soon we will begin painting scenes, backdrops, murals and props for VBS. This will be done in partnership with St. Paul Lutheran Church.

Franklin County Fair parade: Last year Sue received feedback that the float was missed in the parade. If there are volunteers to help with the assembly of the float, HUMC will be back in the parade with one this year.

Saturday at Franklin County Fair: In the past we have been asked to watch over the chapel at the fair.  We are responsible for 'watching over' the church in the Pleasant Hill village on Saturday during the fair.
I have run out of time for this week.  Look forward to posting again next week about the life at HUMC.
John Wesley's Sermon, The Character of a Methodist
One who has the love of God shed abroad in the heart.
One who cannot but rejoice, having peace with God through the Lord Jesus Christ
One who has the hope of immorality
One who prays without ceasing
One who loves and does good to neighbors and friends, strangers and enemies
One ho is pure in heart and shows mercy, kindness, humbleness of mind, long suffering and forgiveness
One who seeks to please God and keeps God's commandments
I have always said "returning from vacation is a trip back to reality."  I am blessed my reality is easy to return to these days.  There were times when I wanted to stay on vacation forever, but God calls me back, there is work to do.  I was reading a post yesterday that said "Choose a Job You Love, and You Will Never Have To Work a Day in Your Life."  That is what it feels like here at HUMC.
This year I did not travel.  No beach fronts, no visits with friends here in the midwest, no exotic cities, no trip to the mountains.  Just me at home, doing what I wanted to do, spending time with grandchildren.  So, no, these are not vacation pictures.
Now, back to my reality and in reading over John Wesley's list of characteristics, I find myself reflecting, as I continue to strive toward the life of perfection, life has become easier.  I know perfection in this life is not attainable, yet, with the Lord Jesus Christ at my side, I will strive.
Now I find myself on the eve of the Franklin County Fair Parade, The Franklin County Fair, coordinating volunteers for the Chapel in the Pioneer Village, Vacation Bible School, The Mission Trip to Heifer International.  I would say that HUMC is doing ministry out in the world, yes, we may spend Sunday morning inside the church, the rest of the time we are out doing ministry, being the hands and feet of Jesus.  HUMC does so much more and I am blessed to be a part of this ministry!
In his sermon, Wesley ends with these words:  "Is thy heart right; and my heart is with thine?  I ask no further question.  If it be, give me thy hand."
I feel my transition back into my responsibilities here at @Hampton United Methodist Church was smooth because God has made it so.
***  Side note:
Now, if you know me, I am often asking, "Does this make sense?"  What is going on in my head doesn't always transfer into thoughts on paper or the spoken word as I would want them to.  So, for today, these are my thoughts and I thank you for taking the time to read, and please let me know if this makes sense to you.
https://umc-hampton.org/wp-content/uploads/2019/07/happy-travel-woman-on-vacation-concept-funny-traveler-enjoy-her-trip-and-ready-to-adventure-118679424.jpg
160
240
Education
https://umc-hampton.org/wp-content/uploads/2018/01/Banner-300x76.jpg
Education
2019-07-11 14:18:51
2019-07-29 18:52:44
Transition from Vacation to Reality
From the beginning several people have had trouble with the pronunciation of the word.  Is this a pasty or a pastie, there is a big difference between the two, so for the sake of the church and the history of this pastry, let me share this information from the WWW with you.  We all know that if you can find it on the computer, it must be the truth, right?
So, what is a pasty or pastie?  The Miner's Delight
Few meals have roots as deep as the Cornish pasty, a hand-held meat-and-vegetable pie developed as a lunch for workers in the ancient English tin mining region of Cornwall. With its characteristic semicircular shape and an insulating crust that does double-duty as a handle, the humble pasty—which, perhaps unfortunately, rhymes with "nasty" rather than "tasty"—today receives special designation, along with Champagne and Parma ham, as a protected regional food by the European Union. In Michigan, where 19th-century Cornish immigrants brought the pasty into the iron mines of the Upper Peninsula, the pasty has been celebrated with local festivals and statewide proclamations.
The Cornish pasty descends from a broader family of medieval English meat pies. The earliest literary reference to pasties is likely from Chaucer's "Canterbury Tales." Legal records from 13th-century Norwich describe pastry-makers accused of reheating three-day-old pasties for sale as fresh. In London, a 1350 regulation barred cooks—on pain of imprisonment—from charging more than a penny for putting a rabbit in a pasty. These pasties (and the alleged venison pasty 1660s London diarist Samuel Pepys suspected was actually beef) were little more than cuts of meat wrapped in pastry dough. By then the Cornish pasty—made from chipped beef, potatoes, swedes (rutabagas) and onions—had already taken its place in Cornwall's regional cuisine.
The Cornish pasty was a food for families, fishermen and farmers, but it shone in the closed-in darkness of Cornwall's mines. Tin had been gathered in Cornwall—first from rivers and then from ever-deeper pits and shafts—since prehistoric times. In ancient Europe, Cornish tin was likely traded via intermediaries with the Phoenicians, who controlled the Mediterranean trade of the metal. Mining continued throughout the Roman and medieval eras and into the early modern period. For Cornish men and boys heading underground, the pasty amounted to a highly efficient food: self-contained, self-insulated and packed with calories. The thick semicircular edge of the crust could be monogrammed with carved-dough initials or toothpick codes to make sure each man and boy took the right pasty as he headed to the mines. The ropelike crust had an additional virtue: miners' hands were often covered with arsenic-laden dust, so the crust could function as a disposable handle.
In their seminal study of the Cornish pasty in Northern Michigan, folklorists William and Yvonne Lockwood describe how the pasty was adopted by Finnish and Italian miners, who looked to their Cornish supervisors for cues on how to behave in American culture. By the mid-20th century, the pasty was so firmly entrenched among all the Upper Peninsula's ethnic groups that it was common to find locals who assumed that the pasty was of Finnish or even Italian origin. Each culture had their own take on the traditional recipe, with the Finns often controversially substituting carrots for the traditional rutabaga. Other locals emphasized the pasty's true origins, referring to the dish as the "Cousin Jack mouth organ"—that is, a Cornishman's harmonica.
After the 1957 Mackinac Bridge opened the Upper Peninsula for tourism from southern Michigan, the pasty shifted from being a food mainly cooked at home by U.P. locals (known as "Yoopers") to one sold at restaurants to visitors from southern Michigan and beyond (playfully derided as "Fudgies" for their preferred dessert). In a moment of Yooper-Fudgie unity, Gov. George Romney declared May 24, 1968 to be the first statewide Michigan Pasty Day.
As a fund raiser for the church the Leadership Committee has blessed the efforts of the men's group for getting the project off the ground.  Now, as the church takes ownership of the project, volunteers are needed to assist with preparation and sales.  Monday, June 25th will be preparation of the the pastie for sale at Tuesdays on the Town the following evening.  Just drop in at the church, on Monday night, you will find the crew working in the kitchen from 5:00 – 8:00 pm.  On Tuesday evening a crew will be set up in the Band Shell Park to sell from 5:00 – 8:00 pm.  Come join the Hampton United Methodist Church in the park during Tuesdays on the Town.  Bossie Cow and others will be there as well.
https://umc-hampton.org/wp-content/uploads/2019/06/pasty-clipart-6-2.jpg
874
1291
Education
https://umc-hampton.org/wp-content/uploads/2018/01/Banner-300x76.jpg
Education
2019-06-20 13:27:15
2019-06-23 16:48:46
Pastys or Pasties...The Miner's Delight
Barricade the road that goes Nowhere; grace me with Your clear revelation.  I choose the true road to Somewhere; I post Your road signs at every curve and corner.  I grasp and cling to whatever You tell me…I'll run the course You lay out for me if You'll just show me how.
(Psalms 119:129-32 MSG)
I began a new book study yesterday and came across this passage in the first chapter.  I have plenty on my plate today; Tuesdays on the Town prep, Praise and Pork Chop prep, Annual Conference prep, however, these verses will not let me rest until I share them!
We are on a journey, together with Christ.  Right?  What wonderful directions he gives when there is no road map to be found.  Let us not loose sight of the prize, striving for perfection, living the everlasting life with Christ.  I am so blessed to be on this journey with so many of you.  At times like this I can feel the joy that God has in store for each and everyone of us.  There are times when we do not understand, and we don't have to, because God know the plans he has for us and that reassurance is all we need.
I get excited on nights like last night.  There were so many people here in the church working on different ministries, my heart is warmed beyond all hope.  FLOCK was here knitting and crocheting away, prep for Tuesday's on the Town promotion of the pasty sale by the church and a group painting items to be use during Tuesday's on the Town, the Franklin County Fair Parade and Vacation Bible School.  It is all about relationship…building relationships with Christ as well as one another on the journey to the heart of God.  Can I hear an Amen?

https://umc-hampton.org/wp-content/uploads/2019/06/giraffe-2.jpg
221
221
Education
https://umc-hampton.org/wp-content/uploads/2018/01/Banner-300x76.jpg
Education
2019-06-04 12:05:49
2019-06-04 16:20:48
I Choose the True Road to Somewhere