Yes, it has been another week of excitement at the Hampton United Methodist Church.
Monday started with FLOCK (
F

aithful

L

adies

o

f

C

rocheting and

K

nitting.)  It is always nice to visit with the ladies and to see their latest projects.  Beautiful patterns and colors, I think everyone is impatiently awaiting spring.
On Tuesday the Mission Committee met.  They were presented with a brochure, put together by Mardell Van Kleeck, a very gifted lady, regarding the FLOCK group.  During the discussion a plan was put forth to ask other ministries of the church to put together information about their ministries, with Mardell's willingness to mock up brochures for each group.  She will also work on a master brochure which will give an over veiw of the church and the ministries.  Once this part of the project is completed, the brochures will be grouped together in a coffee mug designed specifically for the church and be pasted out to guests and friends of the church as they visit.  Members and constituents of the church may also take mugs to give to friends in the community as an invitation to join us in ministry.  Once someone receives a mug, they will be known for having been "mugged by the HUMC."  The idea of "mugging" came to me after attending an event at the United Methodist Church of the Resurrection in Kansas City.  They do this all the time.  Sounds like fun doesn't it?
On Wednesday, Mrs. Bossie Cow, returned to HUMC after spending some time in retirement at Mike and Carol Nolte's farm near Hansel.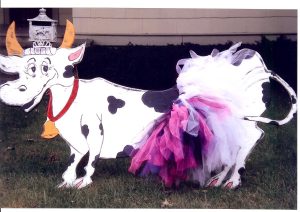 Here she is in a snap I found of her on the computer.  Bossie will help with fund raising efforts by the group traveling to Perryville, Arkansas this summer to work at the Heifer International Farm there.  It looks like we will have around 15 participants on this mission.  Conversation has also brought up thoughts of going west, whether to Western Iowa or Nebraska to assist with flood relief.  That is exciting.
Also this week the April Edition of The Tower went out.  In there you will find many events coming up that will require volunteer help.  The feedback has been very positive.  Here are some of the events, if you are interested in volunteering, please, let the office know
Tuesdays on the Town. HUMC and St Paul will be setting up a booth during the event in June to promote a Community VBS.

Painting: Soon we will begin painting scenes, backdrops, murals and props for VBS. This will be done in partnership with St. Paul Lutheran Church.

Franklin County Fair parade: Last year Sue received feedback that the float was missed in the parade. If there are volunteers to help with the assembly of the float, HUMC will be back in the parade with one this year.

Saturday at Franklin County Fair: In the past we have been asked to watch over the chapel at the fair.  We are responsible for 'watching over' the church in the Pleasant Hill village on Saturday during the fair.
I have run out of time for this week.  Look forward to posting again next week about the life at HUMC.
Barricade the road that goes Nowhere; grace me with Your clear revelation.  I choose the true road to Somewhere; I post Your road signs at every curve and corner.  I grasp and cling to whatever You tell me…I'll run the course You lay out for me if You'll just show me how.
(Psalms 119:129-32 MSG)
I began a new book study yesterday and came across this passage in the first chapter.  I have plenty on my plate today; Tuesdays on the Town prep, Praise and Pork Chop prep, Annual Conference prep, however, these verses will not let me rest until I share them!
We are on a journey, together with Christ.  Right?  What wonderful directions he gives when there is no road map to be found.  Let us not loose sight of the prize, striving for perfection, living the everlasting life with Christ.  I am so blessed to be on this journey with so many of you.  At times like this I can feel the joy that God has in store for each and everyone of us.  There are times when we do not understand, and we don't have to, because God know the plans he has for us and that reassurance is all we need.
I get excited on nights like last night.  There were so many people here in the church working on different ministries, my heart is warmed beyond all hope.  FLOCK was here knitting and crocheting away, prep for Tuesday's on the Town promotion of the pasty sale by the church and a group painting items to be use during Tuesday's on the Town, the Franklin County Fair Parade and Vacation Bible School.  It is all about relationship…building relationships with Christ as well as one another on the journey to the heart of God.  Can I hear an Amen?

https://umc-hampton.org/wp-content/uploads/2019/06/giraffe-2.jpg
221
221
Education
https://umc-hampton.org/wp-content/uploads/2018/05/Banner-300x76.jpg
Education
2019-06-04 12:05:49
2019-06-04 16:20:48
I Choose the True Road to Somewhere
A year or maybe two years ago we prayed this prayer during worship here at Hampton  United Methodist Church.  A prayer right here, in our hymnals.  I thought wouldn't it be cool if we stopped everyday at 4:29 PM and prayed?
I had what I thought was a ridiculous idea at the time regarding a way we could all pray together, everyday, no matter where we are.  So along with the many ridiculous ideas I often have I filed it away in the back of my mind somewhere in the '5 1/2 inches between my ears.'
Today, driving here (and I do enjoy my drives to Hampton, it is a great time for me and God to have conversation.  I don't need a phone, so I can do this safely while I drive.)  I asked God to give me some thought or idea to share with my family here and can you believe it?  I remembered this prayer and the number I needed to find it.  Most  of the time I can't remember what I was doing 2 minutes ago, let alone a year or more.  As soon as I hit the office, I opened up the hymnal to 429 and there it was!
Well, if you are still reading, here is my challenge to you, as well as myself:
Take out your cellphone, open it up to your clock, set the time for 4:29 PM, set an alarm at the softest, quietest sound you will be able to hear, set the repeat feature for everyday and save.  Now each day at 4:29 PM you will be reminded to stop and say a prayer.  Now let me say this again:
TAKE OUT YOUR CELLPHONE, OPEN IT UP TO YOUR CLOCK, SET THE TIME FOR 4:29 PM, SET AN ALARM AT THE SOFTEST, QUIETEST SOUND YOU WILL BE ABLE TO HEAR, SET THE REPEAT FEATURE FOR EVERYDAY AND SAVE.
I often end up having a conversation with God, like today.  I am so blessed that he reminded me of what must not have been such a ridiculous idea after all.  From today forward we, yes, we, you and me and however else accepts the challenge, we will lift up what is on our hearts and minds at 4:29 PM.  How powerful is that?
https://umc-hampton.org/wp-content/uploads/2019/05/prayer-429.jpg
337
720
Education
https://umc-hampton.org/wp-content/uploads/2018/05/Banner-300x76.jpg
Education
2019-05-27 14:51:43
2019-05-27 15:18:41
4:29 PM
This should be a quiet week, to reflect?  to rest? to start the next project?  How about reflecting?  Sunday I had the honor to lead worship as Hampton United Methodist Church celebrated with their graduates.  Now, as I recall or rather cannot recall anything about my own graduation, I felt there was nothing life changing or profound that I was going to be able to share with the graduates and as I contemplated the direction to go in my message that morning, Jesus directed me.
We give the graduates a Parallel Bible with the New International Version (NIV) and The Message for study and comparison.  It was interesting to share with these former students and the congregation the differences in the two Bible versions.  The scripture for the day was Proverbs 22:1-12,  Verse 6 is one of my favorites as a youth, I know my parents were in constant need to keep me pointed in the right direction–and many times as an adult I have prayed I had kept my kids pointed in the right direction.  Read the difference between the NIV.  "Start children off on the way they should go, and even when they are old they will not turn from it."  Now from The Message.  "Point your kids in the right direction–when they're old they won't be lost."  I don't know about you, but I get the same message from these two verses, yet would understand our young people if they have a preference for The Message over the NIV.  It was fun and interesting to compare a chapter in Psalms and to point out a couple of chapters in Proverbs the I had highlighted for them.  The reason for highlighting is to suggest when they turn to the Bible they can be reassured this is a starting place if they are unsure where to begin.
Yes, I write and color in my Bibles, as well as store little momentos.  I have part of a chapter in Isaiah highlighted with the 20th verse underlined.  In the margin I have written "INP – Bishop Trimble – 2008".  This helps me remember, it was a time between my first and second trip to Nigeria.  I was at a meeting at the UM Conference Center in Des Moines for a meeing with the Bishops of both Iowa and Nigeria, and others.  As Bishop Trimble read the words of the 20th verse I was moved.  I highlight, underline and write in the margin to make it easier to find, but also that I don't forget.  I also have my favorite verse underlined in 2nd Timothy:
For the Spirit God ave us does not make us timid, but gives us power, love and self-discipline.  NIV
God doesn't want us to be shy with his gifts, but bold and loving and sensible.  The Message
For God did not give us a spirit of cowardice, but rather a spirit of power and of love and of self-discipline. New Revised Standard Version (NRSV)
For God did not give us a Spirit of fear but of power and love and self-control.  New English Translation (NET)
I asked the graduates to keep their Bibles close, on a shelf in their bedroom/dorm room, in a drawer, wherever, and when that need to read comes, whether it be tomorrow, a week, a month, or 5 years from now, they can go to it, the Bible, and read God's word and know God is with them always and forever.  Just as he is for you and for me.
https://umc-hampton.org/wp-content/uploads/2019/05/The-Lord-is-my....jpg
624
500
Education
https://umc-hampton.org/wp-content/uploads/2018/05/Banner-300x76.jpg
Education
2019-05-21 09:46:34
2019-05-21 14:23:48
A Quiet Week