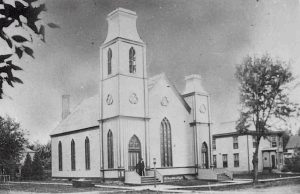 In September of 1857 four settlers of Methodist background invited the circuit rider to visit Hampton to establish a congregation. In 1866 Hampton was recognized as having its first Methodist Minister. In 1869 our congregation numbered 35 members, which included Chapin and Shobe's Grove. These early members met in schools, homes and other places until they started to build a frame Gothic structure, on the existing property, in September of 1870, at a cost of $6000. Their new church was dedicated New Years Day of 1871.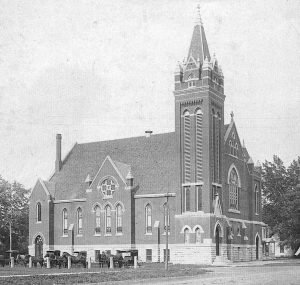 For twenty-one years this wooden church stood strong, supporting growth with their first cherished place of worship. In 1892, with a growing community it was decided to build a red brick Victorian Gothic structure. The old frame building was sold and the new construction began. Construction was completed in 1893, with a membership of 362 and at a cost of $26,500. The new church had been designed to accommodate a pipe organ, but for the first ten years the reed organ from the old church was used.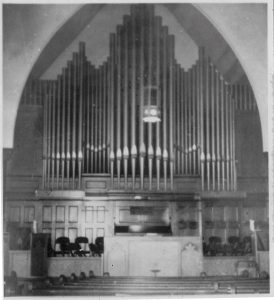 On April 12, 1904 the first boxes of the new organ were unloaded. These beautiful pipes all have been made to be a steward of sound, all waiting to be asked for their chance to bring harmony and beauty to this fine structure.
In 1949 the basement was remodeled to add folding partitions to divide classrooms. Since there was still a basic need of office and education space, in 1958 a capital campaign was created to raise the money necessary to complete the education, library, and office wing in Nov, 1959.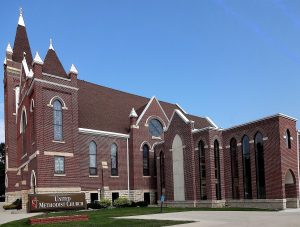 In 2004 a capital stewardship campaign raised over $700,000 in pledges to repair, restore, and update this 100 year old church building. We want to preserve her role as a centerpiece of this community and make this a vibrant and welcoming part of future generations.